Official TWRP App is the official app developed by Team Win, that lets you make sure you stay up to date with the new versions of your personalized ROM. In order to install it directly from the app, however, you need to have root privileges.
The app is pretty simple to use thanks to its clean interface but it's not recommended to 'play around' with it if you're not exactly sure what you're doing, since you could seriously harm your device. At any rate, the app tells you this itself the first time you open it.
Official TWRP App makes it significantly easier to install a recovery on your Android. You just have to search for your device on the list, download it, and install it. The whole process takes only a few minutes to complete.
The official TWRP app is the first and only first-party app developed by Team Win for TWRP. Please bear with us as we work to fix any bugs and build out the features. The initial version of the app does not support flashing on the Pixel due to the Pixel's A/B partition layout. In addition, the app may not support finding and flashing images from external storage locations. We are working hard to improve these items and bring you more new features.Download Links:
---
We recommend downloading the app from the Play Store.
If you do not have Play Store access, you may download the Official TWRP App here:
Primary (Americas)
Primary (Europe)
How do I use the app?
---
When you first open the app, you will be greeted by a few options. First, you will need to agree not to hold us responsible for anything that happens to your device while using the app. You may also grant the app root permissions. The app will work without root, but some functionality like image flashing will be disabled. Lastly, you can opt into enabling InsightCore (more on this feature later).
Once you have passed this initial screen, you will be greeted with the app home screen where you can choose TWRP FLASH or NETWORK STATISTICS (more on the network statistics later). On the TWRP FLASH screen you will need to select a device. Once you have selected a device, the app will periodically check for new TWRP versions for the device that you have selected. The default interval is once per day, but you can tap on the settings icon in the upper-right to change the interval or disable the update check entirely.
If you enabled root access, you will see options for selecting an image and buttons for flashing the selected image to boot or recovery. Note that you should flash TWRP images to recovery. The boot image flashing is for flashing full boot images (not just kernel zImages) and should not be used for flashing TWRP.What is InsightCore or Network Statics?
---
We have partnered with a company called P3 on the development of this app. One of the features that we have included with this app is a feature to monitor and record the network performance of your device. P3's InsightCore will keep track of signal strength, network type (3G, 4G), and network speeds. If you enable this feature within the app, you will be able to monitor how well your carrier's network performs and compare the performance you are getting with your carrier to the performance of other users on your same carrier and compare to performance on other carriers in your region. We believe that crowd-sourcing this network performance data and providing that data to users will help you better choose which carrier offers the best value. You may find their privacy policy here.
The team behind TWRP has released version 3.0.0 (3.0.0-0) of the popular custom recovery for Android devices. TWRP is the to-go custom recovery for many Android fanatics who flash custom ROMs and kernels on a daily basis, for fun or for other reasons.
The latest version of the recovery was 2.8.2 before being replaced with version 3.0.0. This version brings many goodies. Those who use TWRP to flash files once in a while won't be interested, but those who frequently flash files will certainly like the new features.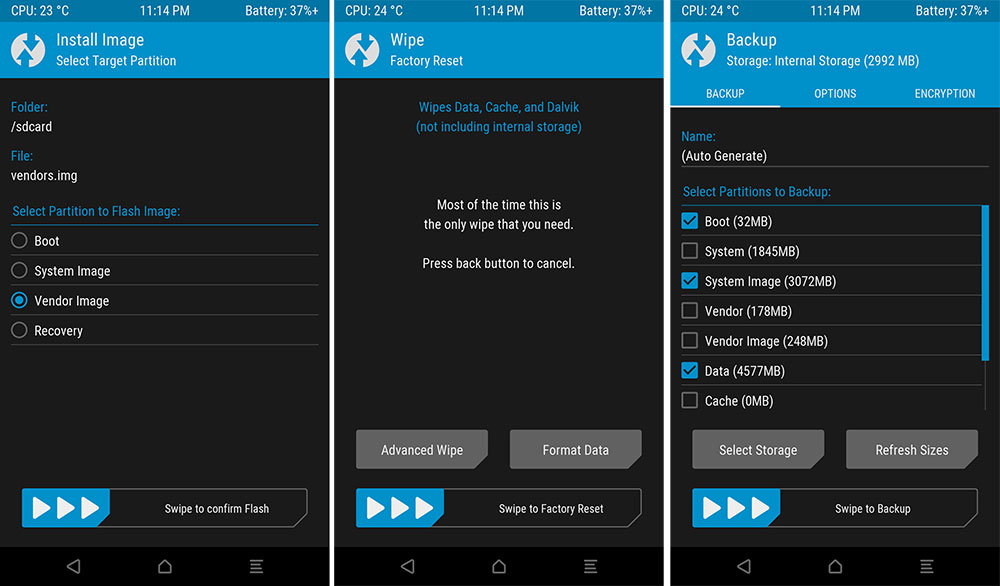 What is new on TWRP 3.0.0.0
Version 3.0.0 of TWRP is the first release in a long time, since version 2.8.2 has been around for quite a while now. The user interface has been changed. Version 3.0.0 includes a completely new theme which is more modern and much nicer looking. There is a true Terminal Emulator with arrow keys, tab and tab completion and language translation.
You can flash sparse images on certain devices. There is added support for adopted storage on a few devices and the AOSP base has been updated to Android 6.0 Marshmallow. The list goes on with a long list of minor fixes and tweaks which users will not notice.
TWRP 3.0.0.0 is available for all supported devices. Some of the most popular devices include Galaxy S3, S4, S5, S6, Note 2, Note 3, Note 4, Note 5, HTC One, M8, M9, Nexus 5, Nexus 6, Nexus 5X & 6P, LG flagships and so on.
How to install TWRP 3.0.0.0 on Android devices
The installation process changes for different Android phones. If you have an older version of TWRP or any other recovery, you can flash the new version and it will overwrite it. If you have root you can use the TWRP Manager app from the Play Store to install the recovery. Alternatively, you can install the .img file where every phone has a different installation process.
Download TWRP 3.0.0.0 custom recovery
Go to the download link above, select your phone and download the right version of TWRP. This is the first update of the recovery after a long time, so things might not go completely smooth on the first try.